Umbraco Developers
If you're looking for Umbraco developers, you already know the strengths of this powerful CMS. It makes updating your website a breeze, while enabling Umbraco developers to build out complex functionality. We are professional Umbraco web developers and Umbraco has been our preferred platform since 2009.
Easy to use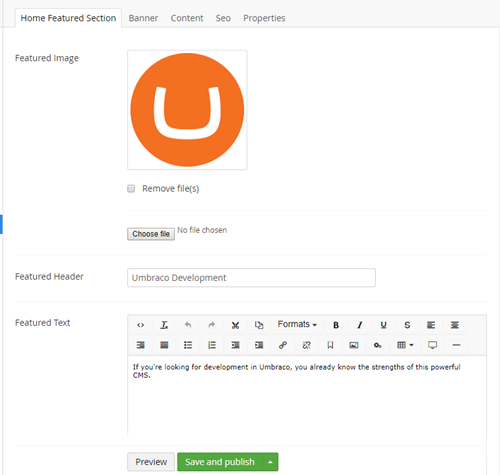 Have you ever had training on using Facebook? It's not necessary, because Facebook is intuitive and easy to use. And we setup Umbraco so that is is easy and intuitive to use.  Over 90% of our clients are using Umbraco with limited training meaning that you're up and running quickly, giving you full control over your site.  And there's no risk you can "break" the website by updating the wrong content.   No wonder Umbraco is know as "The Friendly CMS".
Design Anything
Umbraco places no limits on design, no structure you have to follow.  You may hear designers say "I know how to design for Wordpress", but you won't hear them say that for Umbraco.  Designers have total creative freedom.  There is no limitation on your design approach.
Flexible
You can use Umbraco on the smallest brochure sites right through to large sites.  It's ease of development makes it a cost competitive CMS to use.  It's technical architecture enables rapid development of anything you can throw at it. 
Umbraco has been one of our recommended platforms for over 8 years, and in that time we've completed a wide variety of Umbraco web development projects.
Ecommerce platforms
B2B Product Ordering Portals
Complex websites for large FMCG Organisations
Interactive image manipulation enabling users to customise products before purchase.
Custom calculators.
Complex api integration with everything from simple Weather apps to fully featured CRM/ERP applications.
Membership portal development 
Fast
If you're looking to build a larger site with a lot of content, you'll need a platform that is lean.  Umbraco allows web developers to deliver large websites quickly through clever caching of content, keeping both your website users, and Google, happy.
Secure and Low Maintenance.
Umbraco is built on .NET technology with all the security benefits that come with this.  And it's architecture has been built from the ground up with security in mind.  As a result, you can avoid the cost and risks of running the multitude of updates that come with other CMS systems.  
Umbraco Digital Marketing
Umbraco works directly with all social media platforms in a native format, rather than relying on plugins to provide functionality. This means you can integrate social media and data analytics without concerns on plugin conflicts.  
Unsure Which Platform is Right for Your Next Web Project?
Feel free to call us or use the form below to see if Umbraco Web Development is right for you.